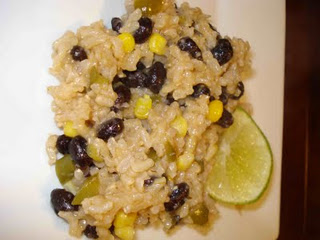 In October, I found this recipe from The Way the Cookie Crumbles and I flagged it for future use. I originally wanted to make it as a meal in itself, but tonight I was hungry, so we grilled up a few chicken sausages from the freezer to go along side of this rice. The original recipe can be found here, but the recipe below reflects the few changes that I made. This was delicious! I have never had rice cooked so perfectly before!
4 tablespoons Olive Oil
1 Green Bell Pepper, chopped
1 Red Onion, chopped
3 Garlic Cloves, minced
1 cup Vegetable Broth
2 1/4 cups Water
**(I used 2 cups broth and 1 1/4 cup water, just so I could use the whole can of broth up)
1 1/2 cups Brown Rice
1 teaspoon Salt
1 can (15.5 oz) Black Beans, drained and rinsed
1/4 teaspoon Black Pepper
1 cup Frozen Corn
1 Lime, wedged
In a 375 degree preheated oven, heat olive oil in a dutch oven until shimmering. Add the chopped bell pepper and onions and cook, stirring occasionally, until browned, about 12 to 14 minutes. Stir in the garlic and stir until fragrant, about 30 seconds. Add broth and water. Cover and bring to a boil. Remove pot from heat and stir in rice and salt. Cover and bake until rice is tender, about 1 hour 10 minutes. Remove the pot from oven, uncover, fluff rice with a fork, and stir in beans and corn. Replace the lid and let stand for about 5 minutes. Stir in the black pepper and serve.