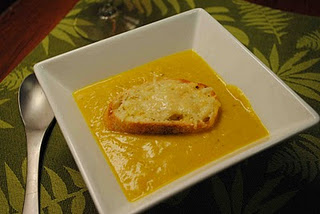 I found
this
recipe on
Baked Bree
and it was awesome. We picked up a butternut squash last night at the co-op with the intention to make this soup. We had everything else on hand. It was such a simple recipe and so delicious, too! It made the house smell great too. We made Parmesan croutons to go along with the soup, which were also delicious!
1/4 cup Butter
1 Onion, diced
4 Garlic Cloves, minced
4 cups Chicken Broth (I used Vegetable Broth)
8 cups Butternut Squash, peeled and diced
1 1/4 teaspoon Fresh Thyme, minced (I used about 1 teaspoon of dried)
1 1/4 teaspoon Fresh Sage, minced (I used about 1 teaspoon of dried)
1/4 cup Heavy Cream
2 teaspoon Sugar
Salt and Pepper, to taste
In a large pot, melt the butter and add the onions and garlic. Saute until tender, about 10 minutes. Add the squash, herbs, and broth. Bring the soup to a boil. Reduce the heat to a simmer and cover the pot. Cook until the squash is very tender, about 20 minutes. Puree the soup using an immersion blender. Add the cream and sugar and season with salt and pepper, to taste.