Before 2010 comes to a close, I wanted to jump on the end of the year "best of 2010" bandwagon and reflect on my own year in recipes. I went through each of my posts and chose my favorite recipe from each month. Oddly enough, even though these were my favorites, I've only repeated them at most 1 time.
Here's to a prosperous, healthy, and happy 2011!
January: Rarebit Risotto. Not exactly healthy, but absolutely delicious!!

February:
Roasted Red Potatoes
. A side dish that is as simple as it is delicious!
March:
Chunky Italian Vegetable Stew
. Yum!
April:
Chocolate Chip Scones
. Nothing beats a fresh baked good for breakfast in the morning.
May:
Chicken Tequila Burgers
. A great meal on the grill for the first nice day of the year!
June:
Hash Brown Potato Casserole
. A family favorite!
July:
Peach Bruschetta
. Oh my goodness, I can't wait to be able to make these again!
August:
Baked Zucchini
. It was tough to choose just one this month, but this is another family favorite!
September:
Fettuccine with Fresh Herbs
. Light and refreshing!
October:
Pumpkin Spice and Maple Granola
. I don't know what I love more, the recipe or the picture!
November:
Chicken Pot Stickers
. Yet another tough month to choose, but these were great!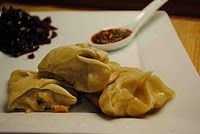 December:
Tempeh with Snow Peas
. This may be one of my all-time favorites of the year!