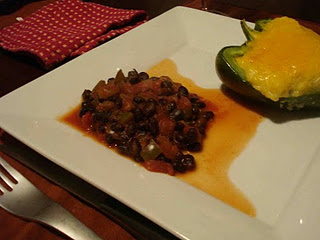 This recipe is on the same page as the Mexican Polenta-Stuffed Peppers in the Moosewood Restaurants Simple Suppers cookbook. I couldn't believe how simple this side dish was to make. And, as simple as it was, I can't believe I never thought to put these two ingredients together on my own!!!
16 ounce jar Salsa
15 ounce can Black Beans, drained
1/4 cup Cilantro, chopped (optional-I skipped this since I didn't have any)
Combine salsa, beans, and cilantro in a saucepan and bring to a simmer.