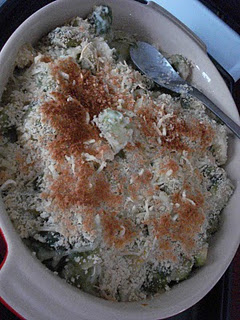 This was the vegetable dish I made for Easter. I found this recipe on Closet Cooking. His picture looks so much more appetizing than mine, but everybody seemed to like it anyway. Like Joel said, I managed to take a perfectly healthy thing like brussels sprouts, and make them completely unhealthy by adding cheese!
2 pounds Brussels Sprouts, trimmed and cut in half (I couldn't find fresh so I used frozen)
2 tablespoons Butter
2 tablespoons Flour
1 cup Milk
1/4 teaspoon Nutmeg
Salt & Pepper to taste
1/2 cup Gruyere Cheese, grated
1/2 cup Parmesan Cheese, grated
1/2 cup Panko Bread Crumbs
Blanch the brussels sprouts until just tender, then set aside. In a saucepan, melt the butter. Mix in the flour and let simmer until it starts to brown a little. Mix in the milk, nutmeg, salt, pepper, and 1/4 cup of each cheese. Heat until the mixture starts to thicken. Toss the brussels sprouts into the bechamel sauce and pour into a baking dish. In a bowl, mix the panko crumbs with the remaining 1/4 cup of each cheese. Sprinkle the bread crumb mixture over the top of the brussels sprout mixture. Bake at 350 degrees for about 15-20 minutes, or until bubbly and brown. *We had to put ours under the broiler for the last minute or so to get some color.