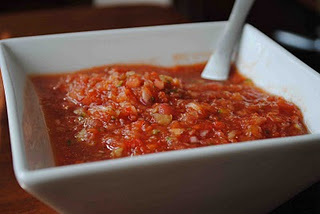 I've never made gazpacho but we have had it out at a few different places and think it is delicious. It always surprises me when I go to take a spoonful and it is cold. I wanted to try to make this on my own so I used
Ina Garten's recipe
because it looked so simple and had so many good reviews. I made this a day in advance so that the flavors had time to mix and develop. Joel took one bite and told me that he thought that this one is better than the gazpacho we buy at our co-op, followed by the statement "you know you have to make this every week now, right?" I'm just glad that he liked it!
1 Hothouse Cucumber, halved and seeded but not peeled
2 Red Bell Peppers, cored and seeded
4 Plum Tomatoes
1 Red Onion
3 Garlic Cloves, minced
3 cups (23 ounces) Tomato Juice
1/4 cup White Wine Vinegar
1/4 cup Olive Oil
1/2 tablespoon Kosher Salt
1 teaspoon Fresh Ground Black Pepper
Roughly chop cucumbers, bell peppers, tomatoes, and red onions into 1-inch cubes. Put each vegetable separately into a food processor fitted with a steel blade and pulse until it is coarsely chopped. Do not over process! After each vegetable is processed, combine them in a large bowl and add the garlic, tomato juice, vinegar, olive oil, salt, and pepper. Mix well and chill before serving. The longer the gazpacho sits, the more the flavors develop.